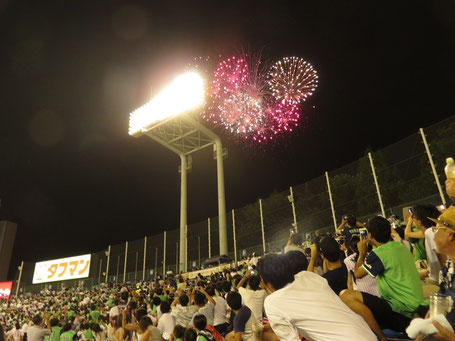 The heat can make sightseeing in Tokyo difficult during the month of August. Make sure you take plenty of water. You might want to allocate some time indoors like stops at a museum or shopping mall.
There are some fireworks shows in August, such as the one in the Harumi/waterfront area on the 8th. There is another big one in the JIngu Gaien area on the 11th. Also you'll get to see a short but colorful fireworks display after the fifth inning at all Yakult Swallows home games at Jingu Stadium during this month.
The Samba Carnival at Asakusa, on the 29th is a popular event to close out the summer. The Awa Odori Festival in the western suburbs of Koenji on the 29th and 30th is also a popular event that has origins from tranditional dancing seen in the Tokushima Prefecture.
Take note that many Japanese take time off from work to visit relatives around the O-bon period, usually from the 12th to the 16th. Smaller family-owned shops may close, but a majority of bigger stores will stay open. The interciy trains can get packed during this period (also the highways) so you might want to avoid long distance travel if you have a flexible schedule.  On the other hand, you will find relief that the Tokyo metro trains will feel less crowded during this time!