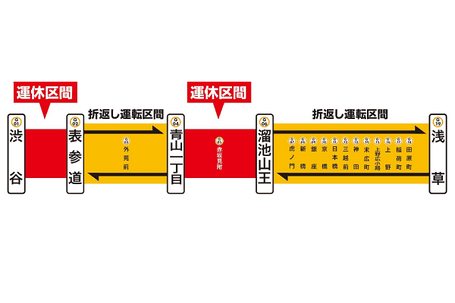 The Ginza Line on the Tokyo Metro will see a partial suspension of services all day on November 5/6 (Sat/Sun) and also on Nov 19/20(Sat/Sun).
On these four days, there will be no trains running between Shibuya (G01) and Omotesando (G02) plus the section between Aoyama-itchome (G04) and Tameike-sanno (G06).
Trains will run more on less as usual between Tameike-sanno and Asakusa (G-19), but at a reduced frequency of every 12 minutes between Omotesando and Aoyama-itchome.
The area in red on the left diagram indicates the sections that will see the temporary suspension. The affected stations can all be accessed by the other Tokyo Metro-run lines.