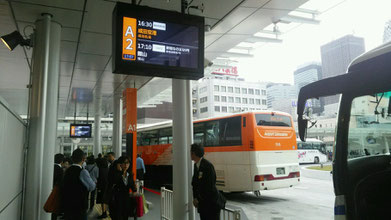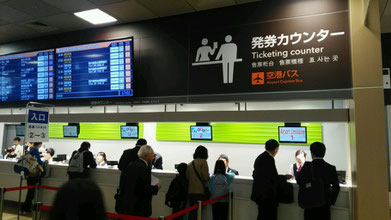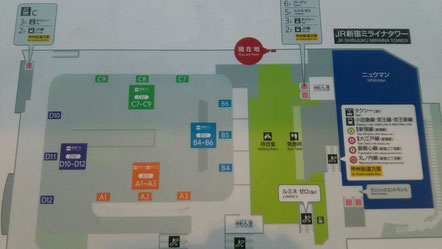 Here is an update to the opening of the new bus terminal in Shinjuku called the Busta Shinjuku (バスタ新宿). Now all long-distance buses and Airport Limousines depart from the 4th floor of this terminal. The buses for Narita/Haneda Airport were leaving from quays A1 and A2 (marked in orange) when we visited. There is a big monitor showing where the buses will be leaving, so make you sure you check upon your arrival. There are different ticket counters depending on your destination though you will have to closely examine the screen to know which one it is. Tickets for the airport buses is much easier to find as it is clearly marked with an airplane logo. It's similar to a layout seen at airports and looked fairly easy to navigate, at least from a Japanese-speaking person's point of view. It can be accessed directly from the Koshu Kaido Exit or the New South Exit of the station. Don't go out the other exits or it will take forever to get to the terminal!!
Another important change : It is now illegal to catch taxis from the busy Koshu Kaido street on the southern side of the station, and you have to go to the taxi stand at the 3rd floor of the Busta Shinjuku building. For a taxi connection, it might be easier to get out from the western or eastern exits of the station. Shinjuku remains a confusing intersection for first-time visitors, but more modifications are on the way in time for the 2020 Olympics.
Here is more coverage of the new bus terminal on the Japan Times.
http://www.japantimes.co.jp/news/2016/04/04/national/new-one-bus-terminal-opens-tokyos-shinjuku-station/#.VwkKsTZJnIU