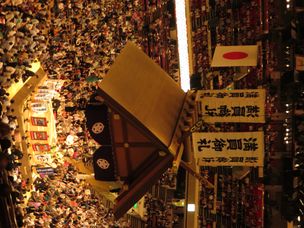 The 15 day sumo tournament will be starting this Sunday (8th May) at the Ryogoku Kokugikan in eastern Tokyo. It seems tickets have nearly sold out for all dates already.
If you still wish to witness the tournament in person, there are non-reserved seats  (2,200 yen per person), that go on sale in limited numbers each morning during the tournament. Sales start at 8am, but usually you have to be in line by about 7am, as the tickets are in extremely limited numbers.
If you are lucky enough to get a ticket, you can take a seat on the last row of the arena which is the non-reserved area. The top-ranked wrestlers won't start to appear until after 4pm so you can leave the arena once (many people leave some non-valuable thing behind to secure their place) and come back later. You need to get your hands stamped by staff before exiting to be allowed back in later.