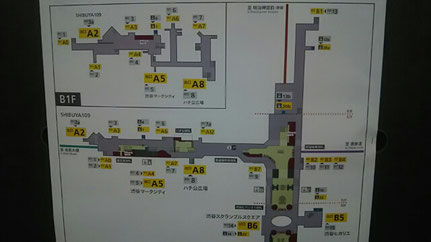 The Shibuya Station will see some big changes in how the exits are numbered, coming up on November. For example, exit 15 which connects with the Shibuya Hikarie will be renumbered to "Exit B5" and exit 13 in the direction of Cat Street will be designated "Exit B1". Certain exits on the western end of the station will see only a minor change; for example exit 8 which leads to the Hachiko statue will be "Exit A8" effective Nov 1st.
The changes are supposed to give users a better idea of the direction for this massive station; the letter "A" will be added to exits on the western side and "B" to the eastern end.
Nov 1 will also see the grand opening of the "Shibuya Scramble Square" which will include shops, restaurants and an open-air observation deck "SHIBUYA SKY" on the 45th floor. It will be adjacent to new exit B6.